It took over 20 years and countless reviews for a writer to accurately capture the essence of David Sutherland's work, but in 2006, a piece from the Baltimore Sun finally hit the nail on the head. "No one makes documentaries the way David Sutherland does. And perhaps no one ever will; the toll is too great. The documentarian's methods more closely resemble an ethnographer's than a television director's. He steeps himself in the minute details, emotions and struggles of his subjects' lives, trying to see the world through their eyes. Never mind closing the distance between viewer and object viewed, this filmmaker all but obliterates that distinction through his own intense identification and empathy with the people he films."
No one makes documentaries the way David Sutherland does,

And perhaps no one ever will; the toll is too great.
The quote is especially well-suited to his most recent film, "Marcos Doesn't Live Here Anymore" (April 2019, 2 hours) which examines the national issue of immigration with the help of two unforgettable protagonists. Elizabeth Perez, a US Marine veteran and immigration activist, tirelessly works to reunite her family after her husband, Marcos, is deported to Mexico. Sutherland weaves a parallel-action love story that takes us inside a world often lived in the shadows, on both sides of the border, demonstrating the human cost of deportation.
Before that in "Kind Hearted Woman" (April 2013, 5 hours), Sutherland delves into the sometimes troubled life of Robin Charboneau. Against the windswept backdrop of rural North Dakota, he follows a young Native American mother balancing the tragedy of alcoholism and abuse with the triumph of protecting her family and pursuing her dream of helping her people. And in 2006 "Country Boys" premiered which took seven years to bring to fruition as Sutherland returned again and again to the hills of Appalachian Kentucky to crystallize the coming of age ordeal faced by his two teenage subjects. The film aired to great critical acclaim, and went on to become one of the most widely viewed programs on PBS that year. "Country Boys," which Sutherland produced, directed, and edited, marked his second collaboration with Frontline, the first being 1998's "The Farmer's Wife," a three-part, 6.5 hour film cataloguing the trials of a poor Nebraskan farm family. The Chicago Tribune hailed it as "one of the extraordinary television events of the decade," and the series' 18 million viewers responded in record numbers with over 100,000 emails. The response cut across class, race, age and gender; from as many urban viewers as rural; and more than half wrote that they had come upon "The Farmer's Wife" while channel surfing. The Television Critics Association nominated "The Farmer's Wife" for awards in three categories: Best Program of the Year, Best Miniseries & Specials, and Best News & Information Program.
Patricia de Stacy Harrison, President and CEO of CPB, on David Sutherland's work:

"What you do is tell stories of such long lasting impact they stay with one forever."
"Kind Hearted Woman," "Country Boys," "The Farmer's Wife" best represent the current evolution of Sutherland's filmmaking technique, which he describes as "cinematic portraiture." "The sound is designed so the viewer hears my subjects breathing, sighing, and groaning from 100 yards away. My objective," says Sutherland, "is to make you feel that you're living in their skin." This technique of filmmaking requires a great deal of intimacy between filmmaker and subject, combining technical virtuosity with an intense human connection to the film's subjects, and was not arrived at without many permutations. His first film, "Down Around Here," employed the use of a handheld microphone to catalog the demise of a Cambridge diner. Throughout the 1980s and 1990s, he created an impressive body of work, most of which aired nationally on PBS. "George Washington: The Man Who Wouldn't Be King," was produced for The American Experience; "Jack Levine: Feast of Pure Reason," and "Paul Cadmus: Enfant Terrible at 80," gave new life to two accomplished WPA painters; "Feast of the Gods" was commissioned by the National Gallery of Art; and "Halftime: Five Yale Men at Midlife" chronicles the experience of five members from the class of 1963. His 1995 film "High Energy," a portrait of physicist Melissa Franklin, was the lead film for the PBS series "Discovering Women," and "Out of Sight," tells the sordid tale of a blind cowgirl addicted to independence and sex.
In addition to his own work, Sutherland has also executive produced Sally Rubin and Jen Gilomen's "Deep Down," two films for Marlo Poras – "Mai's America" and "Run, Granny, Run" - and did the same for Poras' film with Sally Wu, "The Mosuo Sisters, " as well as Sally Wu's "The Good Daughter." Such a career does not come without recognition. In 1999 Harvard University Film Archives honored his work with a ten day retrospective of David Sutherland films. In 2003 and 2004, he was invited to judge The Writer's Guild of America, East awards for best documentary screenplay. And most recently, in 2007, the Museum of Modern Art (MoMA) honored him as the "featured director" in the Director's Tribute at their annual international Documentary Fortnight series and for the first time ever screened 14 hours of one filmmaker's work.
David Sutherland graduated from Tufts University and attended U.S.C. Film School.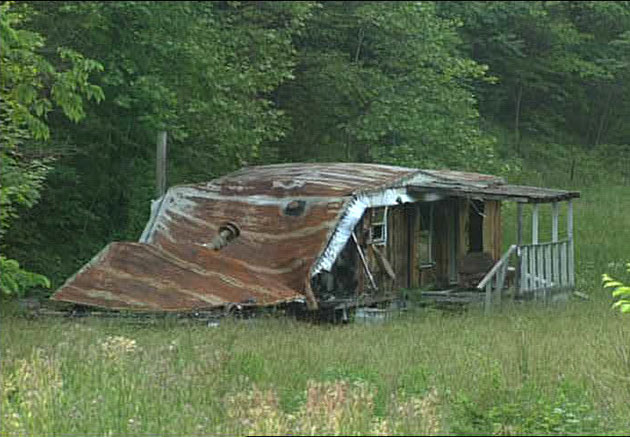 David is now living in Byron's Holler near Beauty, Kentucky.