Jack Levine and Paul Cadmus films to screen at Smithsonian
The Smithsonian American Art Museum in Washington, D.C. will host a special FREE screening of two of David Sutherland's films: Jack Levine: Feast of Pure Reason and Paul Cadmus: Enfant Terrible at 80.
When: Saturday, June 28th, 2pm (Jack Levine starts at 2 p.m. followed by a 30 minute intermission; Paul Cadmus begins at 4 p.m.)
Where: McEvoy Auditorium, Smithsonian American Art Museum, 8th and G Sts NW
A question and answer session will follow each film. For more information, please visit the Smithsonian American Art Museum's website here.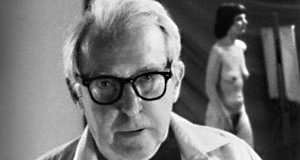 Jack Levine: Feast of Pure Reason
(1989, 60 mins.) This film explores the work of Jack Levine, one of America's foremost social realist painters, doing what he does best: skewering corrupt politicians and police, raging over social injustice, and satirizing the petty foibles of human kind.
Paul Cadmus: Enfant Terrible at 80
(1986, 60 mins.) When a morally indignant admiral ejected Paul Cadmus's painting of rowdy sailors from a WPA exhibition in 1934, it was only the first scandal in the artist's unusual career. In this film, Cadmus candidly recounts his past as a prominent American scene painter and a controversial social satirist.

{snippet:footer}